Welcome to the Hamilton County Probate Court
Judge Ralph Winkler and the Hamilton County Probate Court employees are committed to providing excellent service through courtesy, dedication and professionalism while following all laws of the United States of America and State of Ohio. The Court ensures prompt and equal access to all court records and services by using the latest technology to consistently improve accuracy and efficiency in our office, while increasing the times and locations that citizens can access our services. We strive to protect the rights and safety of all people, and those the court have been entrusted to protect, with prompt and just resolution to all legal matters brought before the Court. The Court provides over 80 unique services, some of them include assisting in the distribution of assets from generation to generation, providing guardianship for residents who cannot care for themselves and growing families through marriage and adoptions.
Forms
The "forms" section of this website allows you to find the forms you need to complete and file with our office. We anticipate adding more forms as they become available. Select your service below by clicking on the drop down menu.
Click here to select
Probate
services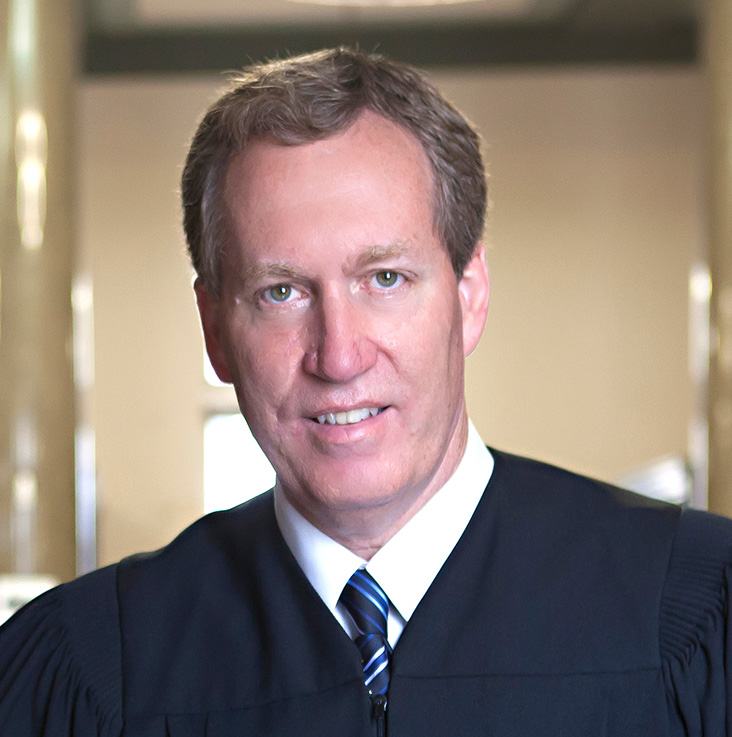 THE HONORABLE JUDGE RALPH E. WINKLER
Judge Ralph Winkler is a lifelong resident of Cincinnati, Ohio. He graduated from Colerain High School in 1979 and the University of Cincinnati in 1983 with a Bachelor of Business Administration. He earned his J.D. from Chase Law School at Northern Kentucky University graduating in 1987. While in law school, Judge Winkler worked full time as a law clerk in the Hamilton County Court of Common Pleas. After passing the Bar in 1987, he worked in the private practice of law and as an assistant prosecutor until April of 1999 when the Governor appointed him a Hamilton County Municipal Court Judge. In 2004, he was elected to the Hamilton County Court of Common Pleas and was reelected for a second term in 2010. In 2004, Judge Winkler received his diploma in Judicial Skills from the American Academy of Judicial Education and in 2008 was named Trial Judge of the Year by the Hamilton County Trial Lawyers Association. He has served as adjunct professor at the University of Cincinnati College Of Law. After winning the Election for Hamilton County Probate Court Judge in November 2014, in 2015 Judge Winkler began serving the public by hearing cases involving adoptions, mental health care, guardianships, estates, and other probate cases. He is married to Teresa Winkler and has three daughters and seven grandchildren. As a judge since 1999, he has presided over 36,000 + cases, giving him a wide variety of great experience. He feels blessed to hold a job he loves and looks forward to what each new day brings.
Recent Alerts
Beginning 5/12/2020 all visitors to the Hamilton County Probate Court will be required to wear face coverings. Face coverings must fit snugly but comfortably and allow for breathing without restriction. They should be worn horizontally, covering nose, mouth, and chin at all times, and secure behind the head with ties or ear loops. Face coverings are required for people who can safely wear them. Some individuals cannot wear face coverings safely. Examples of this would be individuals who have severe asthma or breathing issues, hearing aids, autism, post-traumatic stress disorder, or claustrophobia. In addition, face coverings should NEVER be worn by or placed on people who are younger than 2, have difficulty breathing, or are unconscious, incapacitated, or otherwise unable to remove them without assistance.
Resumption of In-Person Hearings

Given the recent modification of the "Stay at Home" order issued by the Ohio Department of Health and the Ohio Governor, the Hamilton County Probate Court will begin to conduct in-person hearings on May 4, 2020 subject to the following conditions:

1. If a party or attorney is ill, has a fever, cough, shortness of breath, difficulty breathing, muscle pain, headache, sore throat, new loss of taste or smell, chills, sneezing or other symptom consistent with having the COVID -19 virus, the Court will continue the hearing. The party and /or attorney should contact the court to reschedule the hearing.

2. If a party or attorney resides in a household with, has been a caretaker for, or has knowledge that they have been exposed to anyone with the COVID-19 virus within the two weeks preceding the hearing, the Court will continue the hearing. The party and/or attorney should contact the court to reschedule the hearing.

3. If a party or attorney is in an "at-risk" group of contracting the COVID-19 virus due to age or other underlying health reason and does not desire to attend the hearing, the Court will continue the hearing. The party and/or attorney should contact the court to reschedule the hearing.

4. If a party or attorney resides in another state and attendance at the hearing would require air travel or would require violation of any "Stay at Home" or similar order in effect in that state, the Court will continue the hearing. The party and/or attorney should contact the court to reschedule the hearing.

5. Social distancing will be practiced in the courtrooms. As a result, the number of persons allowed into the courtroom will be limited to the applicant, fiduciary (if applicable) and attorney(s). Friends and family members will not be granted access.

6. Due to the social distancing requirement, parties should arrive on the 10th floor no more than 10 minutes prior to the scheduled start of their hearing.

7. Due to the social distancing requirement, hearings involving numerous parties, witnesses, and/or exhibits that are to be introduced into evidence should be continued. The party and/or attorney should contact the court if this restriction applies.

8. The use of masks while at the court is strongly encouraged. Hearing participants may be asked to wash their hands or use an alcohol-based hand sanitizer prior to entering the courtroom.
ALERT: REVISED MARRIAGE LICENSE PROCESS

During the current healthcare crisis, our marriage license process has been revised to protect our Probate employees and the public. At this time, we ask that you only apply for a license within 14 days of your scheduled marriage ceremony. Please be sure your officiant is still able to marry you before you go through this process and schedule an appointment. You may choose either the Online Process or the Pick Up Process.

ONLINE PROCESS

Fill out our online marriage license abstract (pdf fillable form) or print blank copy from this website under the Marriage License -> Marriage License Process section.

Complete all forms, including addendum (if necessary), electronically or print legibly in black or blue ink, include your mailing address, telephone number and email address on the third form. Please be sure both applicants sign the License (first page on the line with the "X") before returning it.

Mail completed forms to Hamilton County Probate Court, 230 E. 9th Street, 10th Floor, Cincinnati, OH 45202 along with your money order made out to "Hamilton County Probate Court" or cash for $75.00 (exact amount only).

Once our Clerk has received your application, they will call you to setup an appointment to come into our office to complete the process. Bring valid identification and certified copy of most recent divorce decree, if applicable. Appointments will be set every 30 minutes from 8:15 – 3:15 Monday through Friday. If you are more than 10 minutes late for your appointment, it will be canceled and you will need to reschedule.

After your appointment is concluded, you will leave with all the documents necessary for your marriage. Please remember that your license is only valid for 60 days from the day it is issued.

Upon the completion of your ceremony, your officiant should complete and mail the Marriage Certificate form to our Marriage License Department. Upon receipt of the Marriage Certificate, the Certified Abstract of Marriage will be completed, certified, and mailed to Applicants.

PICK UP PROCESS

You can pick up marriage license forms on the 1st floor of the William Howard Taft Center located at 230 E. 9th Street, Cincinnati, OH 45202.

Fill out forms as discussed above, sign it, enclose money order for $75.00 made out to "Hamilton County Probate Court" or cash for $75.00 (exact amount only).

Place forms in envelope provided and put in drop box located on 1st floor.
Please note: As a precaution, the mail and any envelopes placed in drop box will be quarantined for 24 hours before our staff opens them. This procedure has been implemented in order to issue marriage licenses during the COVID-19 pandemic only.

This is a temporary situation. Once business operations resume as usual, licenses will be issued as they were previously.

If you have any questions about this process, please feel free to contact our Marriage License Clerks at 513-946-3564.

We appreciate your patience and cooperation during this difficult time.

Marriage License Department
Hamilton County Probate Court
Ralph Winkler, Judge

March 23, 2020 4:05 P.M.
Effective 3/24/20, the Hamilton County Probate Court will no longer have direct contact with the public as directed by the "Shelter-In-Place" order issued by the Ohio Department of Health and the Ohio Governor's Office. We will be unable to have direct public contact for any of our Civil Matters or scheduled hearings until this Order is canceled. Please review our local rules and website for online, fax and mail options to make Court filings. Visit our website at www.probatect.org to attain necessary Court forms, Court Records, and make payments through our Cashier's Office. Boxes will be available in our lobby, on the 9th floor, to receive in-person filings. Please provide your contact information and any necessary payments, via law firm check, cashier's check or money order, with your paperwork. At this time cash, credit cards and personal checks are not being accepted with these types of filings. All in-person filings and mail will be quarantined for 24 hours prior to handling by our office.
For Mental Health Cases:
Please call the University of Cincinnati Medical Center Mobile Crisis for a phone consultation at (513) 584-5098 to explore options for someone you feel may need to be evaluated, or admitted for mental illness. Please note UCMC Mobile Crisis Team has temporally reduced home and community visits for the safety of consumers. They are available for phone consultation at this time.
For Marriage License:
We will no longer be able to issue in-person Marriage Licenses starting 3/24/20. The Court is currently developing an online video conferencing tool to issue licenses. Please check back with our website frequently to find out more information on this new process. We are sorry for this inconvenience.
If you have any questions, please call 1-513-946-3570 between 8:15 AM and 3:30 PM M-F.
Due to the fluidity of the public health crisis, the Court will continue to monitor any releases or directives from relevant agencies and may modify accordingly the operating procedures set forth herein. Please monitor the Court's website for any new information.
Once again, thank you for your assistance and understanding as we continue to serve the public during this difficult time.
Judge Ralph Winkler
See all Probate Alerts