Welcome to the Hamilton County Probate Court
Welcome to the Probate Court of Hamilton County, Ohio, the Honorable Ralph Winkler presiding. We are committed to using technology to improve the efficiency and accessibility of our office. This website offers access to our court records, an online application for marriage license, forms, and much more.
Forms
The "forms" section of this website allows you to find the forms you need to complete and file with our office. We anticipate adding more forms as they become available. Select your service below by clicking on the drop down menu.
Click here to select
Probate
services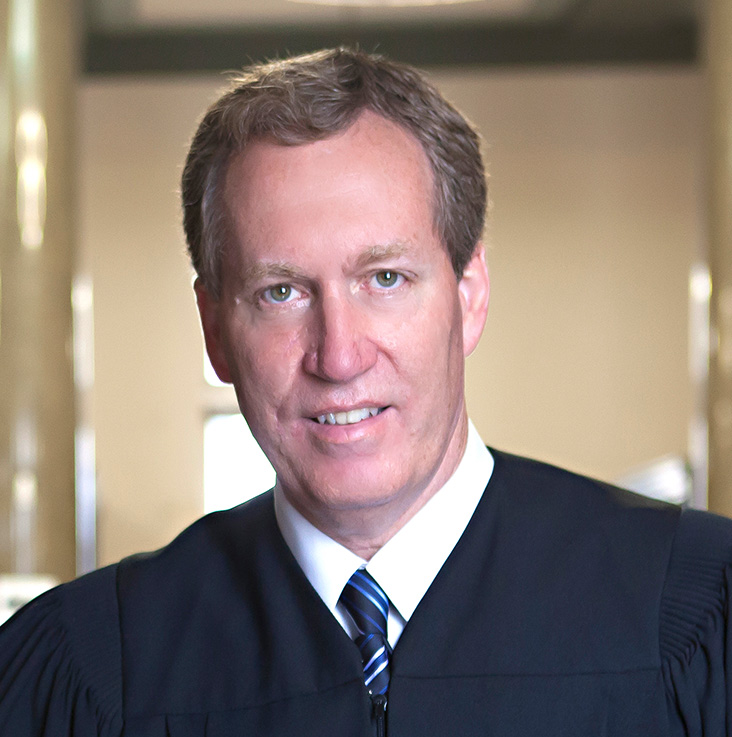 THE HONORABLE JUDGE RALPH E. WINKLER
Judge Ralph Winkler is a lifelong resident of Cincinnati, Ohio. He graduated from Colerain High School in 1979 and the University of Cincinnati in 1983 with a Bachelor of Business Administration. He earned his J.D. from Chase Law School at Northern Kentucky University graduating in 1987. After passing the Bar that same year, he was hired as an Assistant Prosecutor for Hamilton County. He worked as a prosecutor until April of 1999 when Governor Taft appointed him a Hamilton County Municipal Court Judge. He was elected to a six-year term by the voters of Hamilton County in November of 1999. In November 2004, he was elected to the first of two six-year terms on the Hamilton County Common Pleas Bench where he presided over 33,000 individual cases. After winning the Election for Hamilton County Probate Court Judge in November 2014, Judge Winkler began serving the public by hearing cases involving adoptions, mental health care, guardianships, wills, marriage licenses and involuntary drug and alcohol treatment.
Recent Alerts
*ATTENTION*
PUBLIC NOTICE
January 05, 2016
Ohio Law requires the Hamilton County Probate Court to post a list of cases in which money has been paid and remained in the hands of the Court for one year since the next preceding first Monday of January. Below is a list of funds, which are being held by the Hamilton County Probate Court. Payees can contact the probate cashier by Wednesday February 10, 2016 to claim the funds. The cashier is located on the 9th floor of the William Howard Taft Center at 230 East 9th Street and is open for business Monday – Friday between 8:00 a.m. – 3:45 p.m. For additional information contact the cashier at 946-3583.
Check Number
Check Date
Amount
Payee
Case Number
Case Caption
55909
01/06/2014
6.70
SANDRA HUNN
1996000168
KESHAWN WILSON
55924
01/08/2014
6.05
PAMELA SMITH
2011004143
MIYEAL SMITH
55948
01/15/2014
10.00
JOHN SLADECK
2007000878
GEORGE EDWARD SLADECK
55951
01/15/2014
5.75
JAMES FEUER
2012002070
MARILYN SCHWARTZ
55996
01/29/2014
15.00
EARL NICHOLAS SCHENKEL
1981003596
ELIZABETH MARY SCHENKEL
55997
01/29/2014
15.00
E NICHOLAS SCHENKEL
1997004265
EARL S SCHENKEL
56039
02/06/2014
27.00
THOMAS P SEMPLE
2012001453
GOLDIE M DUDDING
56130
03/06/2014
5.75
LEWIS H SEILER
2011000967
VIOLA JOHNSON
56152
03/06/2014
17.00
CHERI BATAL
2013005797
MATTHEW O CONNELL
56175
03/13/2014
16.48
KATHLEEN GREENE
2013004561
MARY AGNES HOLTHAUS
56181
03/13/2014
22.00
CHRISTINE HERRINGTON
2014000504
GRACIA J HERRINGTON
56201
03/26/2014
15.00
ZELMA J SCHULMAN
2003004206
MELVIN L SCHULMAN
56257
04/03/2014
32.50
JOSEPH S HONERLAW
2014001123
HADEN WILLIAMS
56262
04/10/2014
30.80
TYHISHA MOORE
2012000626
TYIONNA BARFIELD
56263
04/10/2014
10.00
RHONDA LANE
2012000658
NONA WYCHE
56272
04/10/2014
18.75
CORY J STEWART
2013002715
CHRISTINE T STEWART
56322
04/17/2014
6.95
LEWIS H SEILER
2014000298
DASANI PHILLIPS
56348
04/24/2014
116.00
ANDREW MAXWELL
2014000699
MYRON MAXWELL
56353
04/29/2014
56.80
MARILYN J MAAG
1997004213
PATRICIA S THOMPSON
56391
05/07/2014
6.15
EBONE MCGHEE
2012004707
ZANIYAH MCGHEE-GRANT
56435
05/15/2014
33.95
SHEILA A FOLTZ
2013001310
RUBY IDELLA JONES
56494
05/29/2014
18.65
KAREN A ROLCIK
2014000215
VITO ANTHONY ALOISIO
56523
06/05/2014
10.00
REBECCA JUDGE
2011002853
MARVIN L NEELY
56531
06/05/2014
6.00
LAWRENCE M ELFERS
2013003763
LAWRENCE H ELFERS
56568
06/18/2014
5.95
SUSAN M GIBSON
2013005222
EUGENE R HINTON
56569
06/18/2014
3.50
BARRY E STEINBERG
2013005250
NATALIE A STEINBERG
56579
06/18/2014
9.00
GREG DYLAN SCHULMAN
2014001159
56583
06/18/2014
41.00
JAMES L T SEXTON
2014001829
BARBARA S THOMES
56600
06/26/2014
7.85
ROBERT F JACKSON
2013003828
KATHERINE L HUTCHINS
56609
06/26/2014
6.00
KRISTY EILER
2014001920
GIAVONNY MANUEL GONZALES
56640
07/03/2014
13.00
JOSHUA M HINER
2014000513
DOROTHY MAE HORN
56656
07/10/2014
6.00
LINDA S BOLIN
2003003667
DANIEL JOHNSON
56708
07/23/2014
11.00
FRANK JOSEPH SCHULER
2013004156
ELIZABETH S SCHULER
56746
07/30/2014
10.50
JAMES CHRISTOPHER CROWLEY
2014001712
JANE E AND THOMAS R ARMSTRONG
FOUNDATION
56767
08/07/2014
292.35
BARRY H ZIMMER
2011003714
ELIZABETH F BERMAN
56772
08/07/2014
9.00
E MICHAEL ZICKA
2013002890
MARY E ZICKA
56845
08/21/2014
11.00
STELLA CARRILLO
2014001716
ASHLEY M CARRILLO
56857
08/28/2014
31.00
STEVEN TYRA
2013002213
CANDACE DEMOSS
56866
08/28/2014
7.80
KARLA RAE ROTHAN
2014000475
KATHLEEN C ROTHAN
56913
09/04/2014
15.00
ERMA COVERT
2014001439
MELVIN L COVERT JR
57047
10/03/2014
56.00
DALE ISAAC
2014002849
BERTHA ISAAC
57119
10/22/2014
37.00
MICHAEL A THOMPSON
2014000549
JANE M THOMPSON
57165
10/30/2014
20.47
TANYA DAWSON
2014003171
DOROTHY BROWN
57207
11/14/2014
10.00
LEE ANN MINK
2014002335
HERBERT L SINKHORN
57227
11/25/2014
96.00
TERESA GODFREY RIEHLE
2012005096
NOLA M GODFREY
57262
12/04/2014
8.95
JUNE LAWSON
2008005347
EDWARD P PRICE
57264
12/04/2014
29.00
JOHN SEARCY
2014001341
CHRISTOPHER J HUGHES
57266
12/04/2014
21.75
CAROL A SANTEN
2014001570
ALVIN E HUCKE
57306
12/18/2014
14.00
TIMOTHY D MILLER
2012001969
RUTH G MILLER HUNTING
57313
12/18/2014
7.95
LARRY H CREACH
2014000647
NOONAN G PATTON
57315
12/18/2014
7.85
JAMES G ANDREWS
2014001108
ROBERT E ANDREWS SR
57323
12/18/2014
11.00
CAMARA CASH
2014004141
IMAIYA SCOTT
57331
12/30/2014
19.95
MARGARET R WRIGHT
2012002111
ERNEST WRIGHT SR
57334
12/30/2014
7.95
MELISSA ASHMORE
2013004095
THOMAS M LAYNE
57348
12/30/2014
9.00
CRISTEN LEE CASTEEL
2014004882
57356
12/30/2014
38.50
WILLIAM B FECHER
2014005487
DORIS ANN MALONE
See all Probate Alerts