Welcome to the Hamilton County Probate Court
Judge Ralph Winkler and the Hamilton County Probate Court employees are committed to providing excellent service through courtesy, dedication and professionalism while following all laws of the United States of America and State of Ohio. The Court ensures prompt and equal access to all Court records and services by using the latest technology to consistently improve accuracy and efficiency in our office, while increasing the times and locations that citizens can access our services. We strive to protect the rights and safety of all people, and those the Court have been entrusted to protect, with prompt and just resolution to all legal matters brought before the Court. The Court provides over 80 unique services, some of them include assisting in the distribution of assets from generation to generation, providing guardianship for residents who cannot care for themselves and growing families through marriage and adoptions.
Forms
The "Forms" section of this website allows you to find the forms you need to complete and file with our office. We anticipate adding more forms as they become available. Select your service below by clicking on the drop down menu.
Click here to select
Probate
services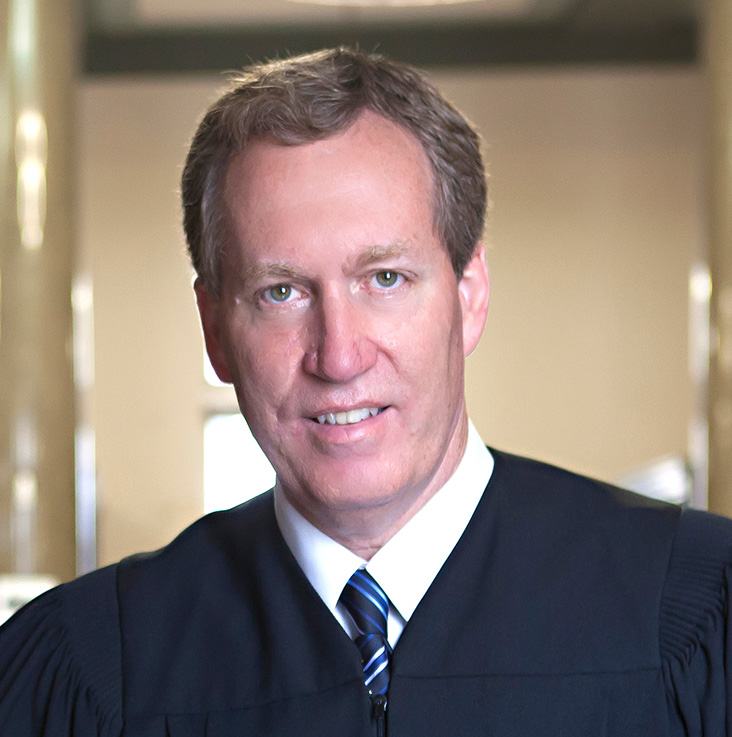 THE HONORABLE JUDGE RALPH E. WINKLER
Judge Ralph Winkler is a lifelong resident of Cincinnati, Ohio. He is married to Teresa Winkler, has three daughters, three son-in-laws and seven grandchildren. He has a strong faith in God and is very active in his church. He has been coaching sports since he was 21 years old.

As a Judge since 1999, he has presided over 70,000+ cases, giving him extensive experience in a wide variety of cases. He feels blessed to hold a job he loves and looks forward to what each new day brings.
Over the years, he has served as adjunct professor at the University of Cincinnati, College of Law and is currently appointed to the Supreme Court Committee on Ethics and Inclusion.
In 1979, he graduated from high school, and then attended the University of Cincinnati graduating in 1983 with a Bachelor of Business Administration degree. He attended Chase Law School at Northern Kentucky University graduating in 1987 where he earned his Juris Doctorate. While in law school, Judge Winkler worked full time as a law clerk in the Hamilton County Court of Common Pleas. After passing the Bar in 1987, he worked in the private practice of law and as an assistant prosecutor until April of 1999 when the Governor appointed him a Hamilton County Municipal Court Judge.

In 2004, Judge Winkler received his diploma in Judicial Skills from the American Academy of Judicial Education. In 2008, was named Trial Judge of the Year by the Hamilton County Trial Lawyers Association. He was elected to the Hamilton County Court of Common Pleas, and in 2010 was re-elected for a second term. In 2015, he was awarded the Golden Gavel Award for his faithful service as a Common Pleas Judge by the OCPJA.

After winning the election for Hamilton County Probate Court Judge in November 2014, Judge Winkler began serving the public in early 2015 by hearing cases involving adoptions, mental health care, guardianships, estates and numerous other probate matters.

Recent Alerts
In response to the public health crisis created by COVID-19 and the actions taken by federal, state, and local officials, the First District Court of Appeals and the Hamilton County Probate Court (the "Courts") have implemented a number of safety measures through a series of Administrative Orders in an effort to maintain Court functions while complying with public health orders and guidelines.
On May 14, 2021, Ohio Governor Mike DeWine issued a statement directing the Ohio Department of Health to conform the remaining health orders to CDC guidance through June 2.
Specifically, "Ohio will be amending our remaining health orders to comply with the new CDC guidance, which says that those who have been vaccinated no longer need to wear masks, while those who have not been vaccinated should still wear a mask and socially distance."
The Courts have also taken into consideration guidance from Ohio Supreme Court Chief Justice O'Connor to "continue to operate within the directives of the Governor and the Director of Health."
Accordingly, to further serve the community and in accordance with the most updated guidance from the CDC and Ohio Public Health, effective immediately and until further order, the Courts modify their previous COVID-19 related Administrative Orders as follows:
This Administrative Order applies to the William Howard Taft Law Center at 230 E. 9th Street (Court Facilities).
Anyone entering Court Facilities, under this Administrative Order, and is fully vaccinated, as defined by current Ohio Public Health Orders and as set forth below, is not required to wear a facial covering or have their temperature taken.
For purposes of this Order, a facial covering is a face covering or mask made of cloth or a similar material that covers the nose, mouth, and chin at all times, and is separate and apart from one's clothing, and does not obscure the identity of the person.
Individuals who wish to wear a face covering for personal health reasons shall be permitted to do so. Individuals may be asked by a judge or magistrate to remove their face covering if necessary for purposes of audibility.
Consistent with public health guidelines, individuals who are not fully vaccinated, including children under 12, remain at risk, and are strongly encouraged to wear a face covering and observe physical distancing, keeping a minimum of six (6) feet of distance between people, at all times in all areas.
For purposes of this Order, individuals are considered fully vaccinated for COVID-19 two weeks after they have received the second dose in a two-dose series, or two weeks after they have received a single-dose vaccine.
Unvaccinated people refers to individuals of all ages, including children that have not completed a vaccination series or received a single-dose vaccine.
Each judge and magistrate retains the authority to establish their own, more restrictive standards within their courtroom and adjoining offices including capacity, social distancing, and mask policies. To the extent a judge or magistrate requires the use of a face covering in their courtroom, a face covering or mask shall be provided by the court.
Previous limitations on in-person access to Court Facilities, which were necessary to limit large gatherings, are hereby lifted. Judges are encouraged, however, to continue to stagger dockets and utilize remote hearing capabilities if possible.
Given the continued threat posed by COVID-19 to unvaccinated, immunocompromised, and other individuals, judges and magistrates are strongly encouraged to utilizing remote hearing capabilities or liberally grant continuances to accommodate those with ongoing COVID-19 related personal health concerns.
Electronic filing through the Clerk of Courts and Probate Clerk's e-filing portal is encouraged for all filings where possible.
The availability of hand sanitizers and regular cleaning in common areas shall be maintained.
No person shall enter Court Facilities, including all Hamilton County elected officials, county and court employees, contractors, and anyone seeking to participate in or attend a court proceeding, without regard to vaccination status:

If they have COVID-19 or believe they have COVID-19, or;
They exhibit signs of respiratory infection (cough, fever, shortness of breath). Such individuals seeking to attend a court hearing shall be instructed to call their attorney or the courtroom staff of the judge presiding over the proceedings.
They are an unvaccinated person, and within the last 14 days, have been exposed to someone suspected or confirmed to have COVID-19, or;
They are awaiting a COVID-19 test result.

The Hamilton County Sheriff and his or her Deputies and other agents shall not be liable for anyone admitted or denied access to Court Facilities regardless of such person's medical health.
Any person who exhibits symptoms of COVID-19 in any area of the Court Facilities may be asked to leave the Court Facilities at the discretion of the Courts.
Unvaccinated employees must perform a daily symptom assessment before coming to work and are strongly encouraged to wear a facial covering and observe physical distancing in all areas of Court Facilities except in their private office space. Employees must stay at home if they develop a fever or exhibit signs of a respiratory infection.
This Administrative Order is effective immediately and until further order of the Courts. To the extent this Order conflicts with any of the Courts' previous COVID-19 related Administrative Orders, this Administrative Order supersedes.
The Accounts Department will remain closed to in-person reviews at this time. Please continue to leave all accounts in the basket on the information counter.
Under the Coronavirus Response and Relief Supplemental Appropriations Act of 2021 and the American Rescue Plan Act of 2021, FEMA will provide financial assistance for COVID-19-related funeral expenses incurred after January 20, 2020. Read the PDF document for more information:
FEMA Funeral Assistance
See all Probate Alerts