Welcome to the Hamilton County Probate Court
Judge Ralph Winkler and the Hamilton County Probate Court employees are committed to providing excellent service through courtesy, dedication and professionalism while following all laws of the United States of America and State of Ohio. The Court ensures prompt and equal access to all court records and services by using the latest technology to consistently improve accuracy and efficiency in our office, while increasing the times and locations that citizens can access our services. We strive to protect the rights and safety of all people, and those the court have been entrusted to protect, with prompt and just resolution to all legal matters brought before the Court. The Court provides over 80 unique services, some of them include assisting in the distribution of assets from generation to generation, providing guardianship for residents who cannot care for themselves and growing families through marriage and adoptions.
Forms
The "forms" section of this website allows you to find the forms you need to complete and file with our office. We anticipate adding more forms as they become available. Select your service below by clicking on the drop down menu.
Click here to select
Probate
services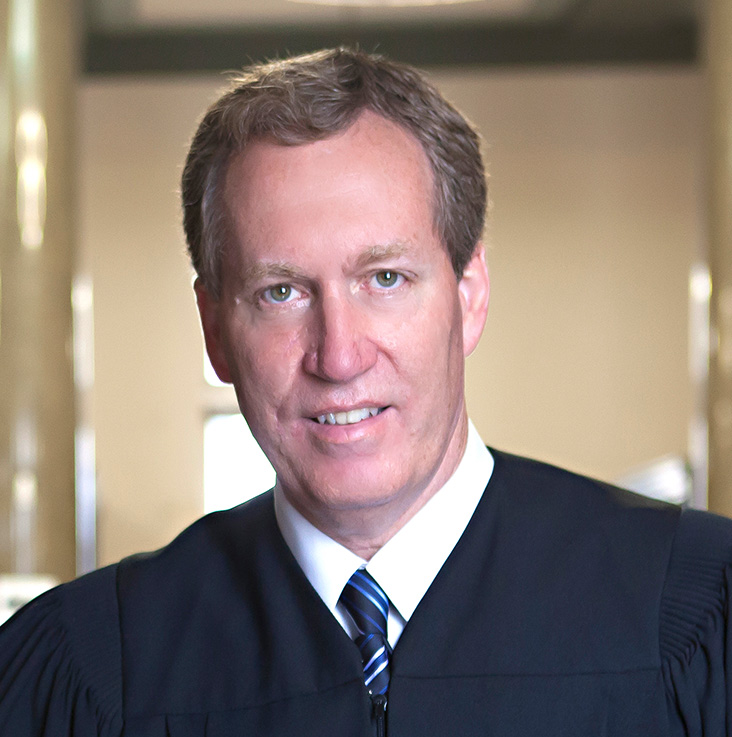 THE HONORABLE JUDGE RALPH E. WINKLER
Judge Ralph Winkler is a lifelong resident of Cincinnati, Ohio. He graduated from Colerain High School in 1979 and the University of Cincinnati in 1983 with a Bachelor of Business Administration. He earned his J.D. from Chase Law School at Northern Kentucky University graduating in 1987. While in law school, Judge Winkler worked full time as a law clerk in the Hamilton County Court of Common Pleas. After passing the Bar in 1987, he worked in the private practice of law and as an assistant prosecutor until April of 1999 when the Governor appointed him a Hamilton County Municipal Court Judge. In 2004, he was elected to the Hamilton County Court of Common Pleas and was reelected for a second term in 2010. In 2004, Judge Winkler received his diploma in Judicial Skills from the American Academy of Judicial Education and in 2008 was named Trial Judge of the Year by the Hamilton County Trial Lawyers Association. He has served as adjunct professor at the University of Cincinnati College Of Law. After winning the Election for Hamilton County Probate Court Judge in November 2014, in 2015 Judge Winkler began serving the public by hearing cases involving adoptions, mental health care, guardianships, estates, and other probate cases. He is married to Teresa Winkler and has three daughters and six grandchildren. As a judge for over 17 years, he has presided over 36,000 + cases, giving him a wide variety of great experience. He feels blessed to hold a job he loves and looks forward to what each new day brings.
Recent Alerts
We have now added the ability to file documents on Guardianship cases through the Probate Court eFiling system (e.g., Guardianship of an estate only, Guardianship of the person only, Guardianship of the person and estate – for both adults and minors).

We will continue adding other case types in the weeks and months to come and will update you of any new additions.
Judge Ralph Winkler is pleased to announce the initiation of a new E-Filing system in the Hamilton County Probate Court. Utilizing the latest in web development technologies, the court can now accept funds and filings electronically via the Internet at
https://efile.probatect.org/
.
This new process will save time and money for the public and the court. In this first phase, the system will be available to attorneys and for filings on current estate cases only. Also, funds can be electronically added to all case types as part of this first phase. The next phase of the project will include additional Probate case types, will open the system up to non-attorney filers, and will allow for originating cases.
This new E-filing system will allow filers to upload documents (PDF) they have created or modified from their home or office computers to the Court's case management system. In addition, using a credit card, users can add money to the case deposits for use in future filings.
It is the Court's hope that ultimately, attorneys and members of the public will be able to conduct much of their business with the court from the comfort and convenience of their office or home – saving them time and money. We anticipate that this will also result in a time and money savings for the court.
This is yet another step in Judge Winkler's mission to improve efficiency and reduce costs of the Probate Court using technology.
See all Probate Alerts